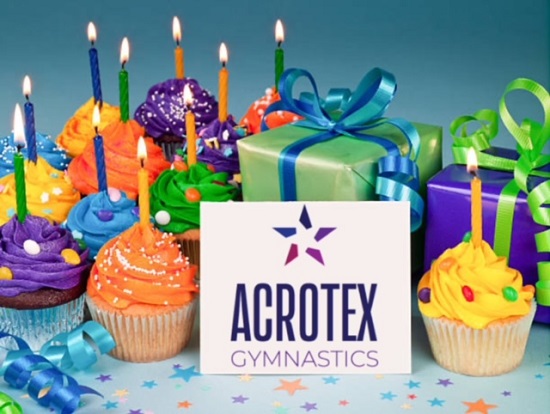 Acrotex Gymnastics has been doing gymnastics parties for years but we have reinvented the party experience! We offer kids' birthday parties or gymnastics parties for any occasion.
Each party will have a private Party Host who will lead group games, structured play, and supervise free play to ensure safety and maximize fun. The Party Host will also help with set-up and clean-up.
Parties can be stressful and we work hard to take care of everything behind the scenes so you can enjoy the party!
---
Party Package - $245
Up to 15 kids, 1 hour of play, and 30 minutes of party time for cake and presents. Our party package includes free color invitations for you to send out and a Party Host dedicated to your party that will help set up and assist you during the party. Each additional child is a $6.00 charge. A $75 non-refundable deposit is required to reserve your spot.
---
AcroTex Gymnastics Waiver Form
A waiver is needed for all children attending an AcroTex Gymnastics birthday party. There is one included on the AcroTex Gymnastics birthday party invitation, or if you do not have one, you may print out the waiver below, fill it out with the child's information, and bring it to the AcroTex Gymnastics party your child will be attending.
Please download AcroTex Gymnastics Party Waiver Form by clicking here.